Marketing Strategy Clinic
New Frontiers
Example of how we can change what we want
What is it?
Instead of traditional mentoring sessions, we are offering a one-day clinic where 4 x 1:1 clinics are hosted on that day.
Each participant get access to the online tool in advance of their 1:1, the MarketingCoachToolkit, which produces a 1 page marketing strategy for their organisation. It is based on the idea of the Lean Model Canvas  for Marketing, where they have a simple 1 page structure outlining their key marketing ideas.
They then receive a 1:1 coaching session with an expert where they get feedback on this document and start working on creating an action plan to bring their strategy to life in a practical way for the business owner.
It is a different approach to traditional mentoring where the participant is walking away with a practical output from the session that they can use straight away in their business.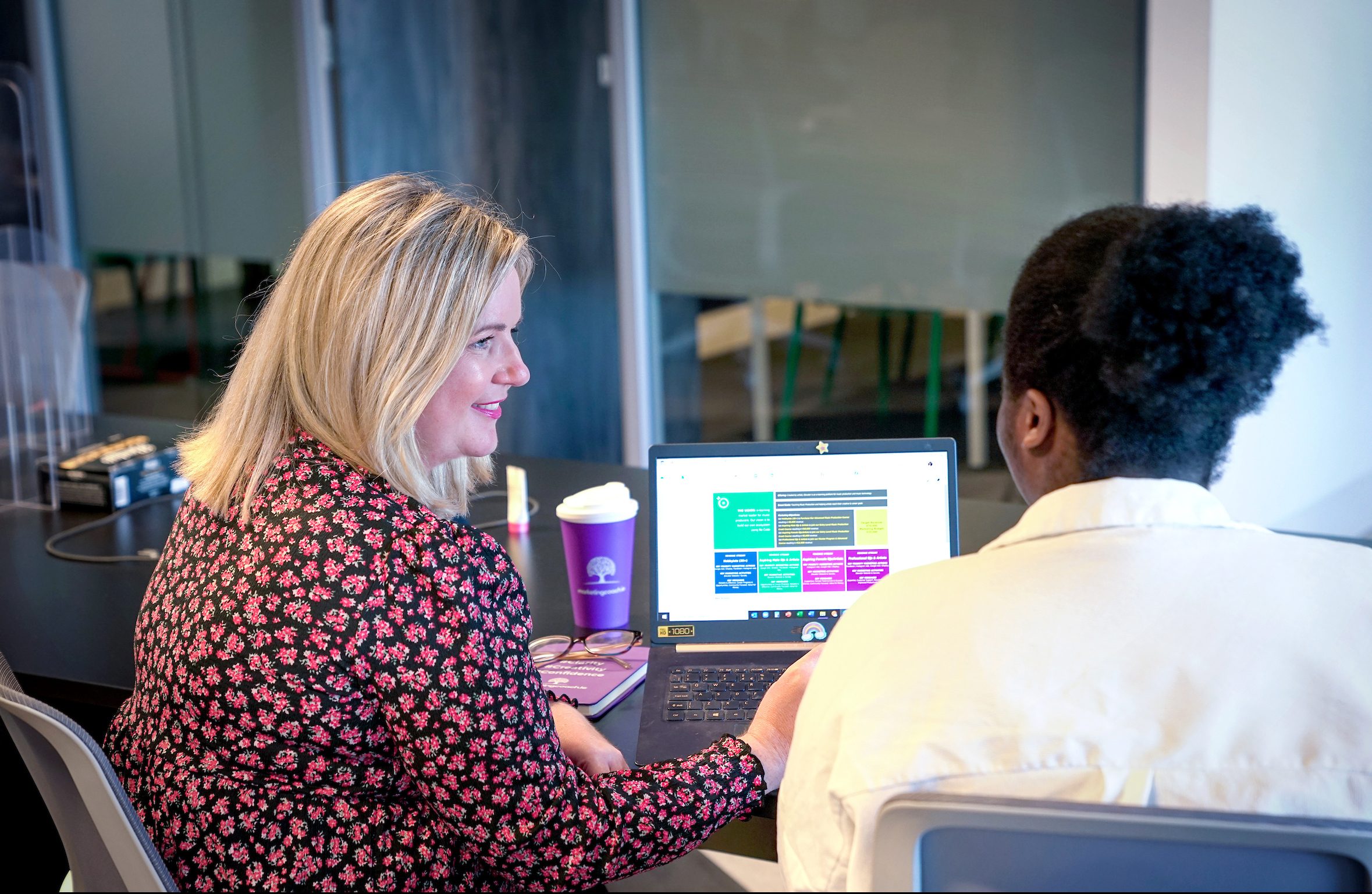 Our Marketing Strategy Clinics Include the Following:
Leadership Coaching
Each participant completes the online tool which produces a one page marketing strategy for the organisation. The online tool takes approximately 60-90 minutes to complete.
Exportability
The toolkit is reviewed to give feedback and development ideas to the business.
1:1 Mentoring
Session
Feedback is shared with the participants and best practice templates are showcased to help the business owner put structure on their marketing plan.
Access to Marketing Planner Templates
MarketingCoach.ie have created marketing plan templates for their clients. Access to these templates will be given to the participants to use in their business.

What is the Marketing Coach Toolkit?
This is an Online Tool built specifically for SME's that enables them to create an expertly designed marketing plan for their business. The user watches a series of videos and answers questions about their business. The tool takes the answers and turns it into a 1 page strategy document.
The tool has been used by over 200 business owners in Ireland, UK, Mongolia and Poland and has been featured on the Microfinance Ireland website https://info.microfinanceireland.ie/marketing-coach-toolkit.
The tool has been used in different programmes such as the New Frontiers and our recently completed "Creative Business Growth Programme" with LEO DLR.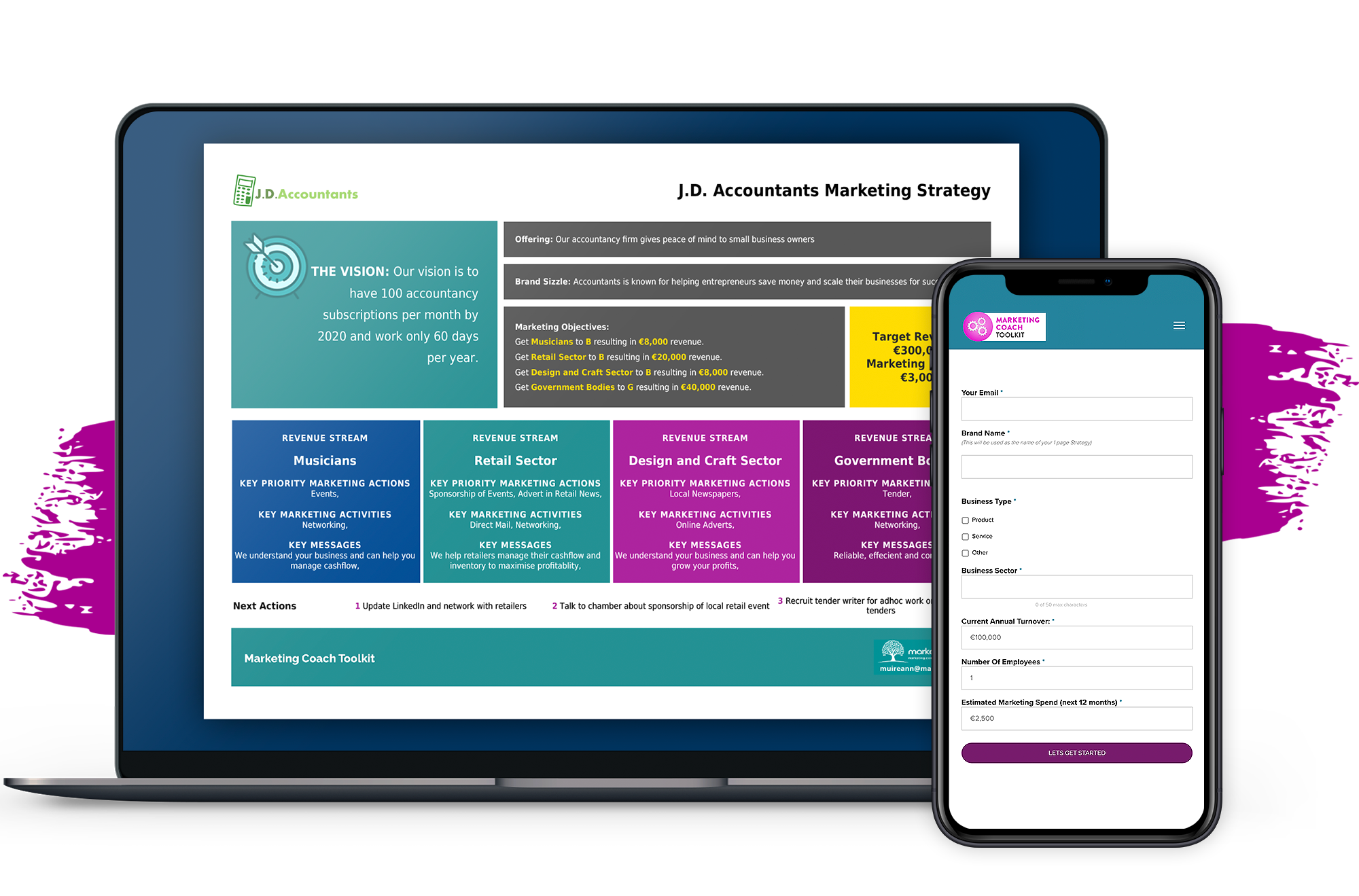 STRATEGY CLINIC PRICING
€900 per day
Price Excludes VAT
What is included?
4 x Clients per day
Client access to the MarketingCoach Toolkit
60mins 1:1 session
Marketing Action Plan Template
Access to Marketing Templates and Planners
*This trade pricing is for Local Enterprise Office only. Toolkit is being sold directly to consumer at €450 RRP.
Hear what Others had to Say!
"I had the opportunity to meet with Muireann to discuss our marketing plans having used her amazing online tool. I cannot believe the clarity I walked away with after a one hour session. As a startup, I'm currently wearing a lot of hats in the organisation but it's easy to become a headless chicken when it comes to marketing. Muireann helped me prioritise and strategize my activities in a measured and focused way."

Emma-Jane

Johnny Magory
"We were lucky enough to be put in contact with Muireann and access her Marketing Coach Toolkit framework. From our first session with Muireann, it was clear to us that she has a deep knowledge of marketing and could translate her knowledge into clear and illuminating examples for us to understand things further. Her preparation enabled us to maximise our time with her and, over 3 sessions, we worked through our context, plans and actions going forward."

Paddy & James

Upcycle Farm
"Muireann was able to strengthen our route to market strategy and provide me with clarity for our marketing direction - something I have been searching for weeks has now been fixed in one small call. I now know where to go next and have a much clearer vision for the future of our business. I could not recommend her enough! Thanks, so much Muireann, we will be chatting again!"

Anna Carmody

Little Red Edu
"I have found Muireann's expertise, commitment to participants and reliability of great benefit to me as programme manager. The feedback from participants has been very positive. I have no hesitation in recommending Marketing Coach as a delivery partner."

Colm Ó Maolmhuire

New Frontiers Programme
"Muireann was an absolute pleasure to work with when delivering our 2021 DLR Creatives programme. Everything was run on time and there was an open communication line throughout the 8 weeks. Muireann was always reachable, extremely professional, and always had our participants best interests in mind. Most importantly, we received glowing reports back from our course attendees."

Anthony Cloonan

LEO DLR
"Muireann's approach is very practical and I feel I have gained more confidence in myself as a business owner and leader. We managed to take some new actions regarding our marketing strategy and map out a new structure for the rest of the year. It's great to share challenges and opportunities with like-minded people and the group was really lovely and supportive of one another."

Silvana Landa McAdam

LANDA